Best waterfront wedding venues in Mid North Coast
The question has been asked, the ring is on your finger and the date has been chosen. It's time to choose where to hold the most important day of your life. It's true, where you have your wedding ceremony and reception will be something you remember forever. After your wedding day has come and gone, it will be captured forever in your photos, so choosing a meaningful venue will serve you well in the years to come. And It goes without saying that you want your wedding day to have an overall "feel", right? So, if you're wanting a laid-back, all-natural ceremony with just a few close friends, you probably wouldn't choose a modern art gallery as your venue. Though on the contrary, if you're looking for a very elegant, polished wedding day, dragging chairs through the sand on the beach probably won't work. Use your wedding vision as a starting point to narrow down the list of venue possibilities. Once you've got an idea of how you want your wedding to look, feel and be remembered in photos, the next step is to find a wedding venue that fits your style.
Garden Bar and Kitchen
Source: The Graden Bar, Frederickton, NSW 2440
Whether you're searching for a dreamy rustic venue or a stylistic and delicate aesthetic, The Garden Bar and Kitchen holds the key to an unforgettable Country Wedding experience. Situated on the beautiful banks of the Macleay river, The Garden Bar provides stunning waterfront views set in the manicured grounds of Frederickton's Old Cheese Factory. The rustic vibe can not only guarantee that this beautiful function venue will soon set in stone one of the most perfect weddings on the Mid North Coast but provides that homely feeling which allows love to run effortlessly through the air.
Now let's face it, everyone loves the delicate touch of a rustic charm, and it's no doubt that your ceremony in the old shed will bring your guests into an ethereal state as the rich contrast of weathered wood admiring against freshly pressed suits and flawless white dresses accompanies a joy like no other. This 1860's heritage listed building offers the perfect waterfront venue as you set the scene for the wedding of your dreams, and of course, overflowing with nothing less than stunning backdrops for the bridal party and a collection of pictures to forever swoon over.
Suitably, just a short walk from your ceremony space, your wedding reception awaits. Now imagine, a picturesque sunset outlooking the walls of your reception venue as you tell the story of your love to your guests. And it goes without saying that you want your wedding day to have an overall "feel", right? So, it's inevitable that the details will reflect that. If you're looking for an elegant, rustic or even laid-back feel to your wedding day, The Garden bar will assist in crafting the perfect atmosphere all the way from table settings to the delicate florals adorning your reception. The Garden Bar and Kitchen is perfect for a timeless wedding celebration which can be described as charming and nostalgic. It is perfect for a down-home feel and offers the simple elegance for your wedding ceremony.
River View island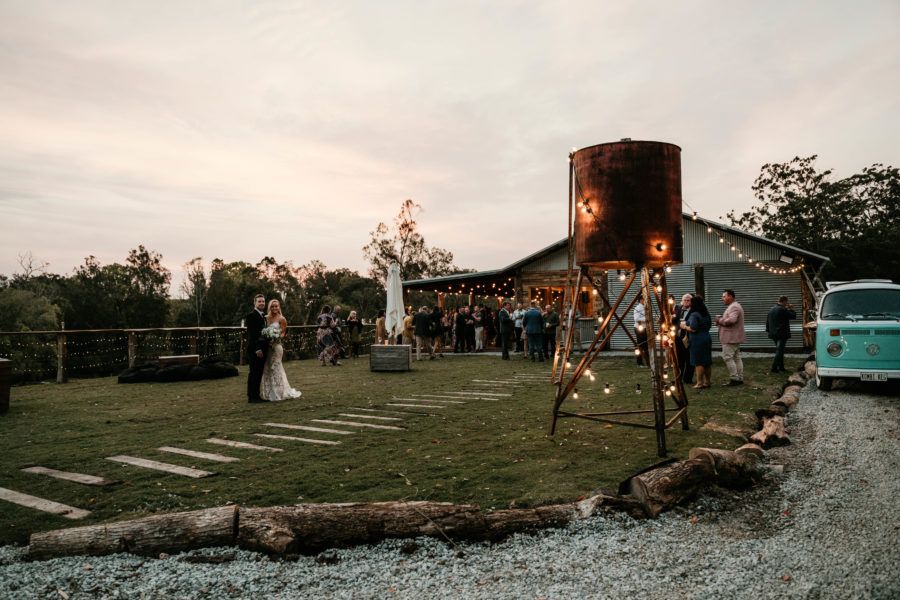 Source: River View island, Rodeo Dr, Tewinga NSW
Just moments from the heart of the beautiful coastal town Nambucca, a dreamy hinterland provides a picturesque view perfect for your wedding on the Mid North Coast.  Hence the name 'River View Island', this fairy tale aesthetic is complete with stunning mountain and waterfront views which will have your guests in awe from the moment they step in.
Of course, your wedding day is simply your day, your day of exclusivity, your day of luxe'. And understandably, your wedding day is the pinnacle of your story of love. A special day with your nearest and dearest. And it is no doubt that your wedding venue will reflect that. Imagine a truly private and rustic retreat fixed entirely to your needs to ensure the wedding of your dreams. Imagine a subtle blend of contemporary and country charm to create a whimsical and airy destination so your day is everything you imagined and more! And imagine your ceremony set in a beautifully unique country barn overlooking the Nambucca river and a backdrop set with spectacular sunsets and enchanted views. River View Island is nothing less than a moment of magic, an atmosphere created to explore the abundance of history and charm of your relationship, and a day that genuinely reflects both you and your partners personalities.
Now, it's no doubt that wedding preparation is tiring, and you're going to need a place to unwind and clear your mind. Suitably, River view island has you covered, offering an opportunity to pair you wedding festivities at River View Island with an environment to relax, wind down pamper yourself at the Old Mill Cottage. Conveniently, this moment of bliss is located less than 100m from your ceremony space. Fixed with a veranda to showcase the spectacular countryside sunset, this homestyle cottage creates the perfect space for your bridal party to prepare for a wedding.
River View Island is a truly stunning venue which will undoubtably make all your guests stop and stare at the endless amounts of love within your relationship pictured through the walls of River View Islands perfect wedding venue.
Mansfield Estate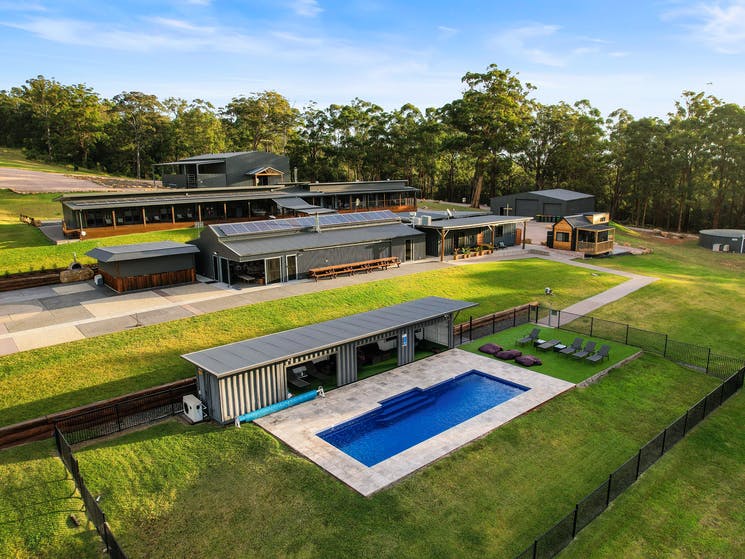 Source: Mansfield Estate, Grants Beach, New South Wales
Your wedding, your way. It's no doubt that everyone's wedding is going to be different, filled with a perfect blend of you and your partners personality's. Delectably tailored to fit your aesthetic, your life together, your love. And it's true, your wedding venue is undoubtably going to reflect that. Whether your vibe is filled with the stark contrast of rustic wood and freshly tailored suits from a vintage church building or the salty breeze and modern aesthetic depicted through a stunning waterside venue, the decision is completely up to you.
At first glance, Mansfield Estate is a striking and exclusive coastal retreat wedding venue set on the 600 rural acres, ensuring privacy and individuality for your perfect wedding. Undoubtably a perfect photo opportunity, set with stunning panoramic views to the ocean and layers upon layers of a spectacular natural reserve. Mansfield estate is a mesmerising destination wedding venue, offering an exclusive coastal getaway for you and your guests to enjoy. If you're looking for the perfect coastal destination with spectacular views, this waterfront wedding venue is a blank canvas which holds the endless opportunities to help you paint the spectacular picture of your dream wedding and venue to say, "I do". For every couple, your wedding can be altered to suit exactly you. Offering a range of ceremony spaces to fit every theme, a classical white wedding could be yours. Likewise, a fairy-tale wedding on the tranquil water's edge is at the ends of your fingertips or a rustic hillside wedding ceremony is offered for an early natural wedding vibe.
At Mansfield Estate, you're spoilt with the choice of multiple function spaces and outdoor areas. Each reception space can easily set an intimate or large gathering, fully equipped with kitchen accommodations and bar facilities.
Whilst enjoying the long summers, Mansfield Estate understands the value of spending time with loved ones and endures in the challenges of bring everyone together. It is the perfect wedding venue and accommodation to explore the coastal stretch and fall in love with the exquisite beauty of the Mid North Coast. It is undeniable that Mansfield Estate holds the key to a perfect wedding suited entirely on reflecting the love you and your partner hold. Depicted through the romance manifested through the walls of your wedding venue, Mansfield estate is the perfect destination for your wedding, your way.