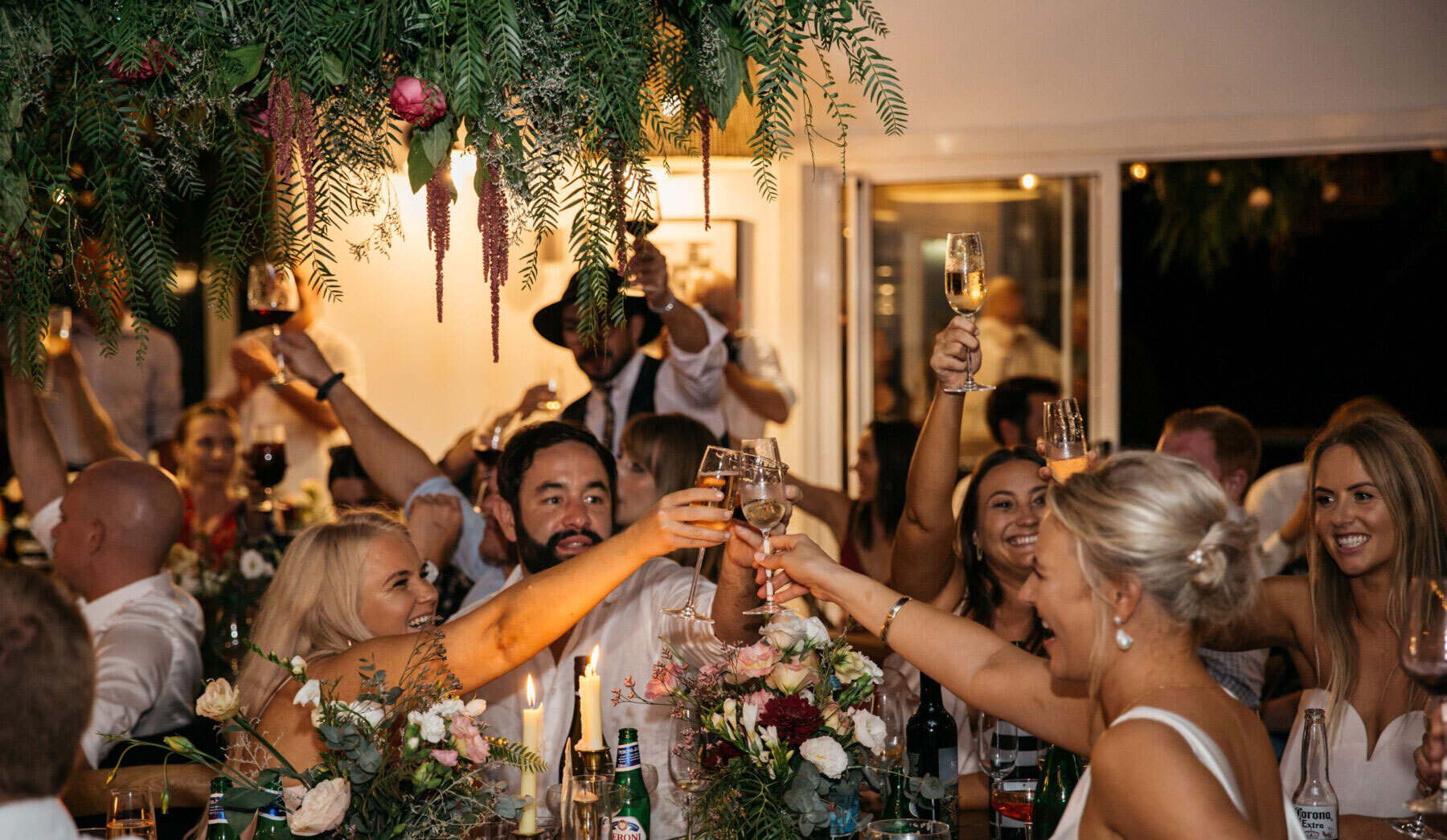 Why choose the Mid North Coast for your wedding celebration?
Surrounded by stunning scenery, the Mid North Coast is located north east of the state of New South Wales. This coastal region ticks all the boxes for a country wedding and is complimented by the subtropical climate perfect for all your wedding dreams. The Mid North Coast wedding venues are commonly known for the delicate waterways, coastal beaches and the striking hinterlands of forests and farms. It is well known that the stunning scenery brimming the Mid North Coast holds an array of endless opportunities as you discover the venue for the perfect spot to say, "I do".
It's no doubt that we all know that this is a big day and of course a wedding is special. I mean, the question has been asked, the ring is on your finger, and the planning is left to you and your partner. It's pretty much undeniable that you have probably heard the tales of how stressful wedding planning can be, seriously, it's pictured in all types of films and even Cinderella was pulling her hair out over it. I mean, the possibilities are endless, and perfection lies down to even the smallest details. And it's true, the venue can be one of the trickiest. Your ceremony and reception will be something you will remember forever. Then, even after your wedding day has come and gone, your celebration of love will be forever captured in photos and a meaningful venue will serve you well in the years to come.
The Garden Bar & Kitchen
Whether you're searching for a dreamy rustic venue or a stylistic and delicate aesthetic, The Garden Bar and Kitchen holds the key to an unforgettable Country Wedding experience. Situated on the beautiful banks of the Macleay river, The Garden Bar provides stunning waterfront views set in the manicured grounds of Frederickton's Old Cheese Factory.
Now let's face it, everyone loves the delicate touch of a rustic charm, and it's no doubt that your ceremony in The Old Shed will bring your guests into an ethereal state, as the rich contrast of weathered wood, against freshly pressed suits and flawless white dresses accompanies a joy like no other. This 1860's heritage listed building offers the perfect function venue as you set the scene for the wedding of your dreams, and of course, overflowing with nothing less than stunning backdrops for the bridal party and a collection of pictures to forever swoon over.
Suitably, just a short walk from your ceremony space, your wedding reception awaits. Now imagine, a picturesque sunset outlooking the walls of your reception venue as you tell the story of your love to your guests. And it goes without saying that you want your wedding day to have an overall "feel", right? So, it's inevitable that the details will reflect that. If you're looking for an elegant, rustic or even laid-back feel to your wedding day, The Garden bar will assist in crafting the perfect atmosphere, all the way from the table settings to the delicate florals adorning your reception. The Garden Bar and Kitchen is perfect, for a timeless wedding celebration which can be described as charming and nostalgic.
Cedar Bar and Kitchen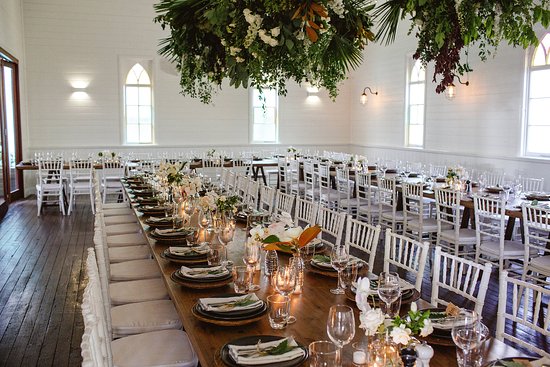 Source: Cedar Bar and Kitchen
Your wedding day, the one day you are guaranteed to remember for the rest of your life, and the biggest party you are ever going to throw. It's no doubt you're going to want to celebrate that day somewhere special, and for many, Cedar Bar and Kitchen holds that special place in their heart, an invitation to the place where the butterfly's flood as they remember their perfect wedding which unravelled in the heart of Bellingen.
In the midst of a beautiful heritage town, those who have visited deem Bellingen to be an ideal wedding destination on the Mid North Coast. And of course, It is no doubt that the Cedar Bar and Kitchen offers a gorgeous setting for your wedding celebration. As you and your partner begin to see the new chapter of your life play out through the reflection of gorgeous stained-glass windows, the exclusive hire of a 112-year-old church is a heart-felt venue perfect for any function venue. The rustic vibe will complement the flutter of love and be an eye catcher for all. With the versatility Cedar Bar and Kitchen offers, this venue can be used as both a ceremony and reception space to make either an intimate gathering or a large celebration one to remember for years to come.
Now remember, this is you and your partners day. Everything is up to you, the details, the food, the setting. And it's true, it can be overwhelming. Though with the help of the team at Cedar Bar and Kitchen, they will ensure nothing less than an aesthetic suited to your relationship, food to fit your palette, and a vision that allows the even the smallest details to look less daunting. Cedar Bar and Kitchen, a simply unique and enchanting venue waiting at the tips of your fingers. Your wedding day. The one day you are guaranteed to remember for the rest of your life, and the biggest party you are ever going to throw.
River View Island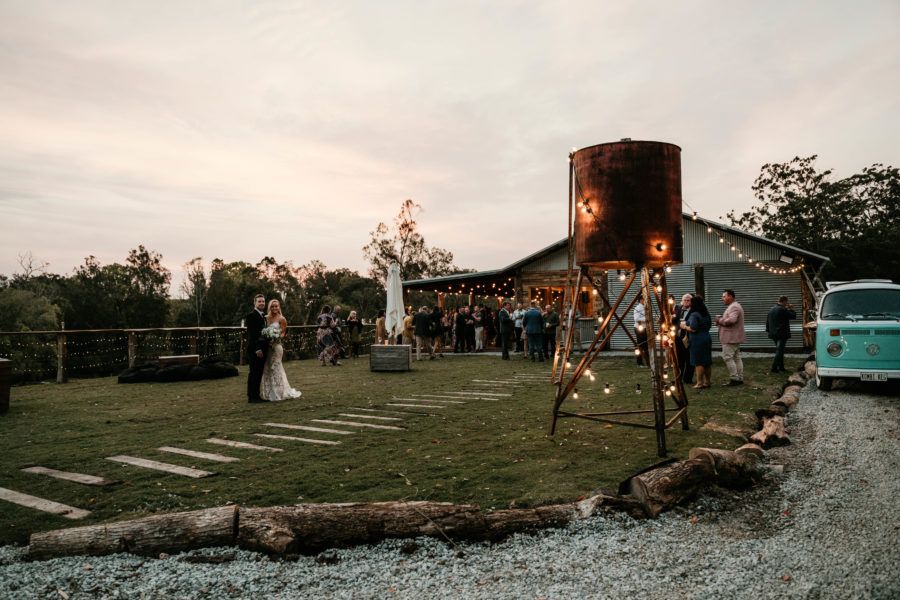 Source: River View Island
Just moments from the heart of the beautiful coastal town Nambucca, a dreamy hinterland provides a picturesque view perfect for your wedding on the Mid North Coast.  Hence the name 'River View Island', this fairy tale aesthetic is complete with stunning mountain and river views which will have your guests in awe from the moment they step in.
Of course, your wedding day is simply your day, your day of exclusivity, your day of luxe'. And understandably, your wedding day is the pinnacle of your story of love. A special day with your nearest and dearest. And it is no doubt that your wedding venue will reflect that. Imagine a truly private and rustic retreat fixed entirely to your needs to ensure the wedding of your dreams. Imagine a subtle blend of contemporary and country charm to create a whimsical and airy destination so your day is everything you imagined and more! And imagine your ceremony set in a beautifully unique country barn overlooking the Nambucca river and a backdrop set with spectacular sunsets and enchanted views. River View Island is nothing less than a moment of magic, an atmosphere created to explore the abundance of history and charm of your relationship, and a day that genuinely reflects both you and your partners personalities.
Now, it's no doubt that wedding preparation is tiring, and you're going to need a place to unwind and clear your mind. Suitably, River view island has you covered, offering an opportunity to pair you wedding festivities at River View Island with an environment to relax, wind down pamper yourself at the Old Mill Cottage. Conveniently, this moment of bliss is located less than 100m from your ceremony space. Fixed with a veranda to showcase the spectacular countryside sunset, this homestyle cottage creates the perfect space for your bridal party to prepare for a wedding.
River View Island is a truly stunning venue which will undoubtably make all your guests stop and stare at the endless amounts of love within your relationship pictured through the walls of River View Islands perfect wedding venue.
Eagles Rest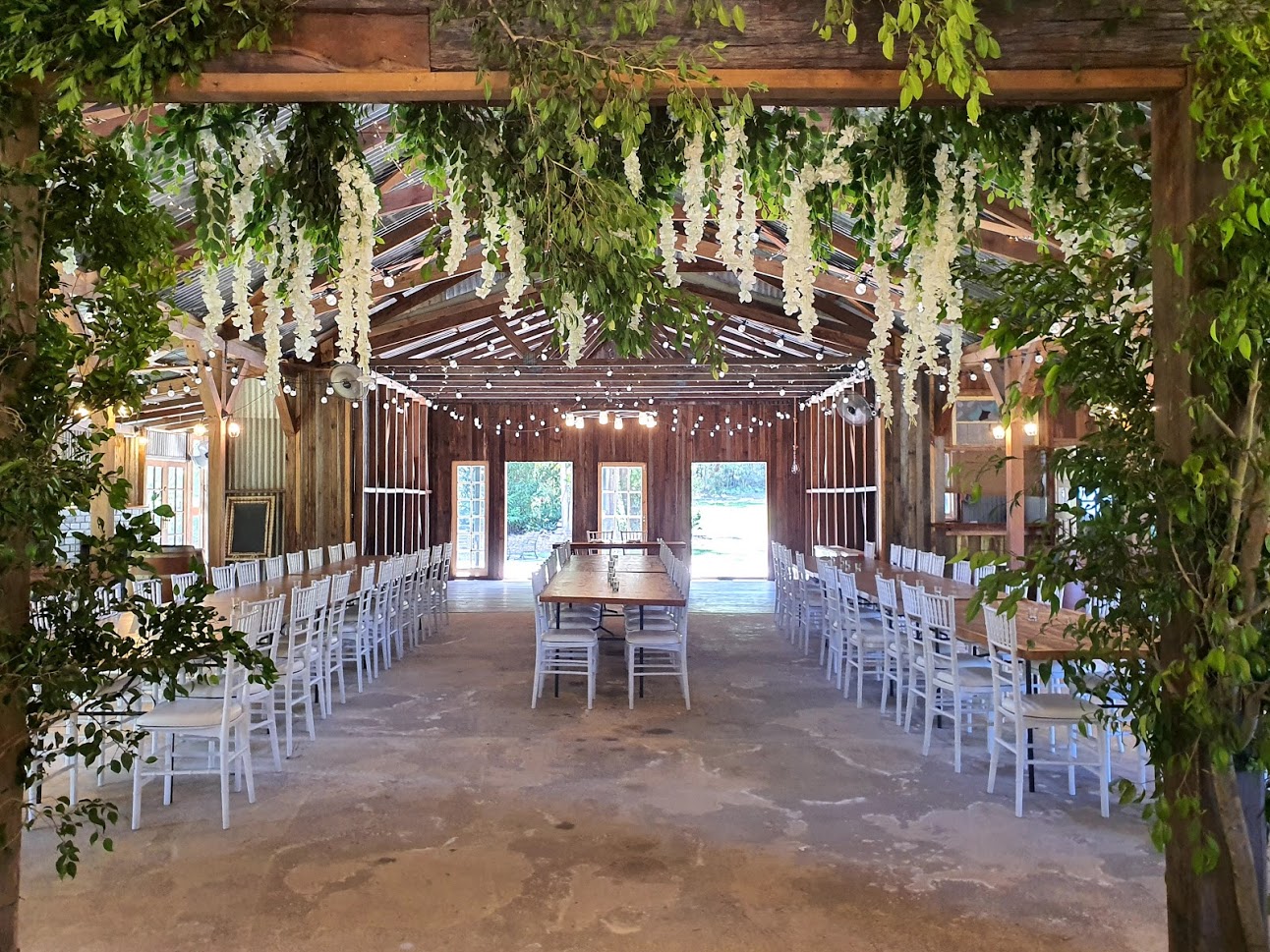 Source: Eagles Rest
A stunning country estate. A delicate link of old-world charm fixed with a modern touch. An exquisite wedding venue. Located on the north east coast of New South Wales, Eagles Rest Weddings lies just moments from Coffs Harbour. A perfect escape from the city providing nothing less than an eclectic combination of bliss, serenity, and solace. This stunning estate provides a sweeping 25 acres of pure beauty surrounded by the native scent of a eucalyptus lined road. Fitted with a wedding gazebo, a large rustic barn and antique vehicles, Eagles Rest is an ideal combination of natural beauty and practicality.
At Eagles Rest, it is undeniable that you will find everything you need to host your perfect wedding ceremony and reception. This vintage estate offers a variety of options to hold the perfect ceremony. Hidden in the sanity of the hills, Eagles rest offers a tasteful range from a vintage gazebo, an elegant north lawn, and a blossoming rustic barn suited for a dreamy wedding ceremony. And remember, you are only limited by your imagination. Eagles Rest is ready to create your ideal setting to perfectly paint the picture of your love to each and every one of your guests. Eagles Rest is the time and opportunity to enjoy the beauty with your partner, friends, and family. Hosted in sophistication, romance will be flooding from the doors and into the elegant space where you will dance into the night under the stars. Eagles rest. Happily, ever after begins here.